Can I order samples?
Yes, samples are available for all our products. Please note that we require full payment for samples before they are shipped, but if returned undamaged within 14 days, this will be refunded or credited to your account.
Can I customise my own goods?
We don't, we do however supply a wide variety of products. We may have what you are looking for, please contact us to discuss by sending us an email [email protected]
Do you supply one-off customised garments?
Yes, we do supply singles in most cases, but do bear in mind that no quantity discounts for either the garment or customisation apply. The cost of one garment is shown on the respective product page.
Do you supply plain non-branded clothing?
Yes, all of our clothing is available plain or with customisation.
How much does customisation cost?
Our customisation prices can be found on individual garment pages on the website: simply click on the 'Customisation Pricing' button (like the one shown above), then choose 'Embroidery' or 'Print'. Please note that for embroidered items, a complex design may exceed the standard stitch count for our small and large logos. If this is the case, we will contact you to discuss your design.
I don't have any artwork to give you for customisation, can you help?
Yes, we have an in-house design and artwork studio which will be able to either produce artwork according to your brief.  There may be a small charge for this service and this will depend on the complexity of your requirements.
Can you embroider my logo or design on my garments in different sizes?
Yes, certainly, but for each different size you'd like your artwork reproduced, we need to make a separate embroidery file, for which there may be a charge.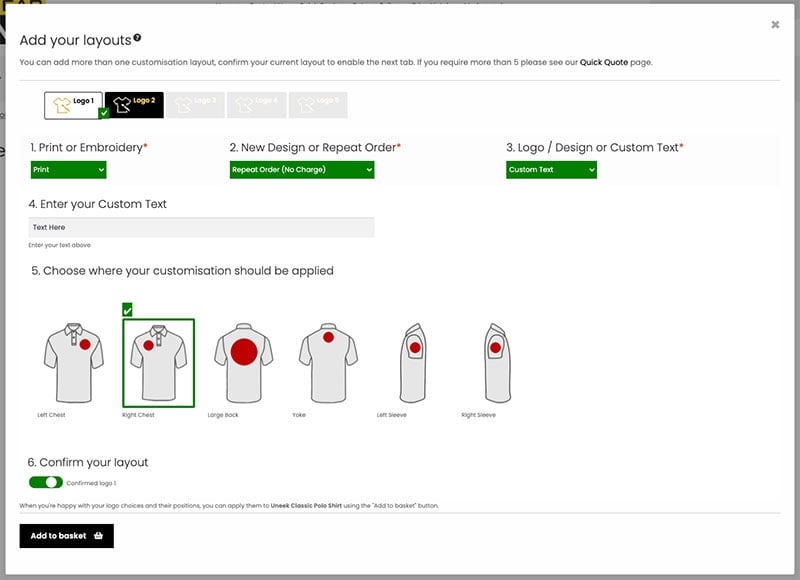 Can I get a proof of my design?
We can offer a proof of your design, but doing so will incur an artwork creation fee as we will need to create the artwork required for our embroidery processes. For all embroidery orders, we will supply an artwork sample before the purchased garments are embroidered to ensure you approve of the design. We will require this approval before producing the embroidery file and customising your garments.
Which artwork format is best?
We can accept a variety of file formats including an AI, JPEG, EPS, PSD, PDF & PNG. If you would like your design printed, we recommend sending a high-resolution file. If the file sent is low quality, it may need to be re-drawn, but we will let you know if this is the case. When supplying artwork, please specify any CMYK or Pantone-matched colours you would like to use. We can match this in both the embroidery and printing processes. If you have any other questions regarding artwork, please contact us.
Will I have to pay for artwork creation more than once?
Each logo that is converted to an embroidered design needs to be digitally recreated into an embroidery file, which is then saved on our system. This means you will incur the artwork creation fee only the first time you use the design. For printed garments, we also retain your artwork on our system.
Can I be invoiced for my order instead of paying upfront?
As a standard policy, we ask for payment of the full invoice amount before garments can be customised. However, we do offer customer accounts with 30-day payment terms. To qualify, we require a minimum spend of £5000 per year before accepting such a credit application. To apply, please contact [email protected]
How can I specify the correct sizes for my garments?
Each product page on our website specifies the range of sizes that the product is available in, including how they correspond with standard men's and women's sizes.  We recommend that you ask the people who will be wearing the garments (if possible) to tell you what size they need.
How long will my garments take to produce?
Delivery information can be found on our delivery information page.  Please allow time for us to produce and despatch your garments. If you do need your garments faster, it's always worth contacting us to see if can satisfy your request. However, this may incur additional costs.
What is your returns policy?
We cannot accept embroidered or printed returns, as we will not be able to re-sell them or return them to the manufacturer. Naturally, if there is a fault with your product, we will investigate it on a case-by-case basis. If you have ordered non-customised garments, we can accept returns if they are in a resale-able condition. Here is our Returns Policy.
How do I customise a product?
Please see the video below.